Kim Tillou

Agent

in Marshfield, WI
Associate Information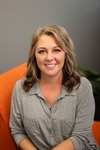 Professional Designations
AHWD
Real Estate is about finding your HOME SWEET HOME, and I'd like to help...
Born and raised in Mosinee, I'm a Finlander with a family link to the U.P. (yes the Yoopers)… I love God, my very large Family and bonus Family, coffee, quotes, butterflies, the race track, anything in nature, & helping YOU find your "Home Sweet Home!"
I have worked in a variety of fields where I realized my strong desired satisfaction and love for simply helping people. I learned the value of providing excellent customer service while creating lasting relationships with those in my community.
Honesty and Integrity are two traits I hold in the utmost regard along with open communication, and a commitment to being there every step of the way.
I am here to do what I can to make buying or selling a pleasant experience, to take away the stress is my top priority as we work together.
I feel that family and home are the two most important blessings in life...as "Home is where your Heart is".
My greatest treasures in life are my two children, Andrea and Mikey, my sister/mom Karen, my best friend and partner JV, my bonus daughters Jes and Kelli, our little lovable old dog Max, and two silly cats Ella and Beans.
I am so excited to have the opportunity to work with such outstanding individuals here at NextHome Hub City, rather than one agent working for you, you get an entire team who works together to serve each individual client.
Let me earn your trust, your business and most importantly your friendship. Don't make another move without me as I will work hard helping you with ideas, tips & suggestions, Buying or Selling, I'm Here for You...